The best outdoor activity for family and friends has to be Trekking in Udaipur. And the best part is that we can either start our trek early in the morning to capture a beautiful sunrise. Or in the late afternoon to catch the best sunset.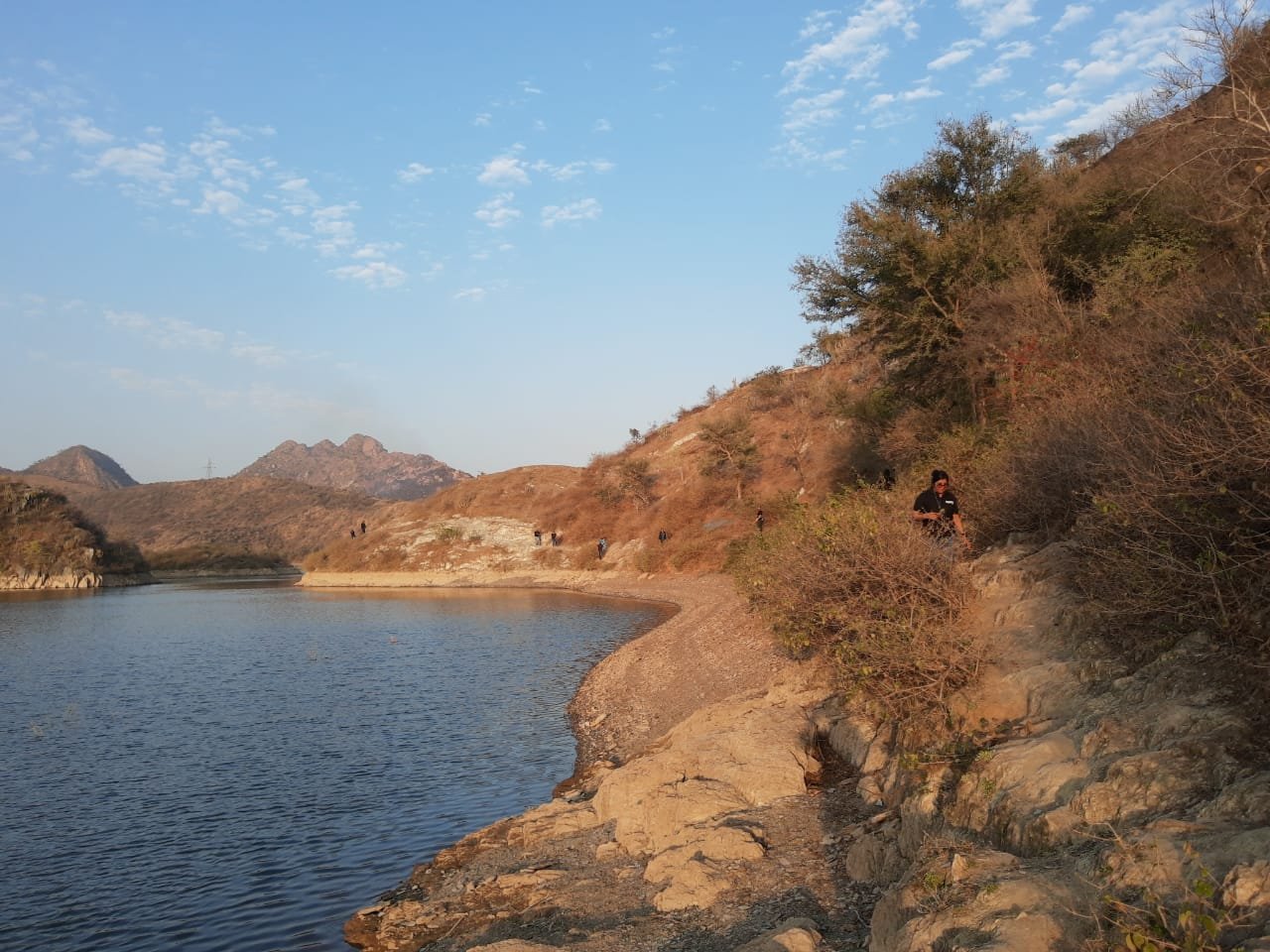 We take a breezy drive from Udaipur via Badi lake to our start point where we meet our explorer for our activity brief. Here we can choose among the various challenging, fun and interesting trekking options as per our comfort.
As we start the trek, we cross the lush and verdant farmlands and walk towards Madar lake.  On our way, we interact with the farmers, the school children and the shephards passing by. Reaching close to the Madar lake, one is definitely bound to get awestruck by the unseen natural beauty of Madar village. This takes us to an interesting village walk that delivers the finest and authentic experience of visiting a village and understanding the culture.  Post the walk, we begin Hiking by the lake to reach the summit where the beautiful landscapes and bird sites await our presence. As we make it to the mountain top, what welcomes us is a breathtaking 360-degree view of mountains and lake. This amazing view calls for a perfect Picnic breakfast/High Tea(Afternoon tour) set up.
Post breakfast, we also have an option to extend the Madar Trek till lunch. This extension will include a further hike to Ubeshwar ji, a Shiv temple. The aesthetic beauty of the temple lies its surroundings of spiritual water and green valleys of Aravali Mountains.
The Village walk and Trek is a perfect getaway from the usual tourist attractions of Udaipur to an offbeat and adventurous experience.
WILDERNESS CAMPING
Camping in India is one of the best offbeat adventures and recreational activities if you are an outdoor person. This outdoor activity appears to be the perfect answer to your question of how to spend holidays in India. As we bike to the best campsites, you are able to fulfil all your wildlife adventures and fun holiday desires.
This adventure trip in the wilderness is a one-night vacation retreat with your colleagues, friends and family. This retreat offers not only camping as an interesting and fun way to bond but a variety of other experiences as well. Moreover, waving at the cool breeze while gazing at the scenic countryside and engaging in an exciting bike ride is an amazing feeling.
Highlight
Campsite – When it comes to the most amazing places to camp in India, Udaipur and its outskirts are an ideal option. From fun-filled games to various camp adventures, all next to a  serene lake body, one gets to experience everything with their friends and family.
Cycling – Ride through the scenic back-roads and countryside paths of Rajasthan to admire the natural rural charm of this royal state. Our cycling packages ensure complete enjoyment and maximum safety measures with the help of our experienced cycle tour guides.
Birding – The melodious chirping of birds while camping and hiking in wilderness is a treat to the ears. For our birding enthusiasts, this holiday trip is indeed a blessing.
Live Kitchen and Cooking – An experience of a live kitchen and barbecue session is an absolute necessity for any camping tour in India. Moreover, looking at the shining stars and admiring the peaceful night makes our bonfire much more soothing.
Village walk – Engage in a village walking tour to explore the natural beauty and traditional culture of villages. In addition, interact with the villagers and visit their traditional houses to know more about their lifestyle.
Yoga with hiking – A yoga session is the most refreshing activity to experience in the lap of nature on the mountain top. Also catch the best sunrise and get ready for a sumptuous breakfast in the wild.