Jaipur is considered as the capital of ancient architecture with a legacy of 300 years old heritage. Biking through a UNESCO World Heritage Site is a beautiful affair that one must have in pink city. And the best time to visit Jaipur by bike is early morning when the life is leisurely unfolding with the first light.
A Jaipur bike tour around the heritage city is highly recommended to the travellers. A slow and relaxed travel experience on a bike gives you a traditional perspective of how morning time develops in this beautiful and historic city. And this will also assist you to closely experience the culture and see more iconic sites and on cycle than you would on other fast vehicles.
The old city was systematically planned in a grid structure of blocks and corridors by the Kings and you can bike from the same historical walled city. Handy information or a local guide can be helpful for you to maneuver these structured corridors which are also home to the markets of jewellers, artisans, food and handicraft. Pedaling through these lanes give you a first-hand experience of heritage, culture, local lifestyle and the famous food joints of Jaipur.
You will also notice small tea shops at every nook & corner of an Indian city due to its necessity. You should also stop for a tea which is a basic need of Indians every morning. And travellers can't miss on it so they are suggested to taste the same aromatic tea prepared with authentic herbs at a popular shack of Sahu Chai &Gulabji tea shop and a few others.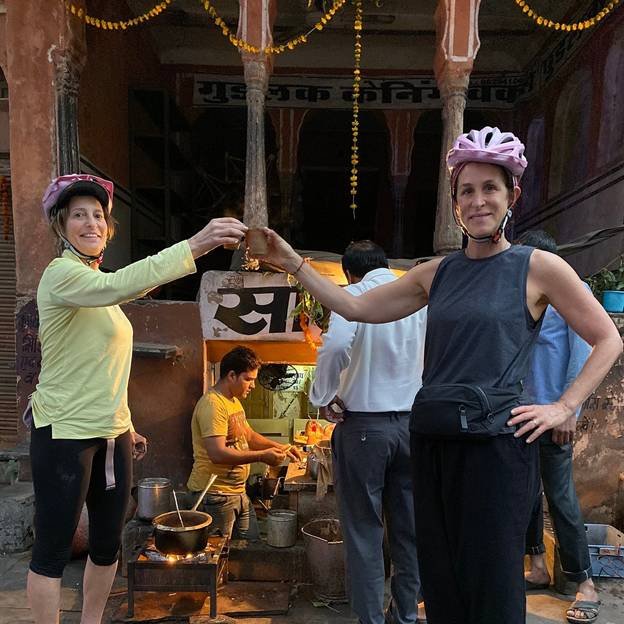 Another attraction on your route can be city's biggest vegetable and the only flower market which is engaged only during the morning. Men or women, everyone loves colours in life. Your eyes will get abundance of colours from bright yellow, red and blue at one corner to green, pink and orange at another. Ladies drape sarees of bright colours and men can be seen donning colourful turbans on their head. These markets have importance for trade, business and culture and are also a scenic view of city dwellers. These are among our favorite stops during the 'Jaipur cycle tour' at 'Le Tour de India' and we recommend you also to take a walk through these markets and attend public activities, interact with locals to get a feel of local lifestyle. In between the market tour, you can also find some vintage houses to know their origin story and other attractive spots which top the list of places to visit in Jaipur.
We answer your biggest question of 'What to eat in Jaipur' in a very tempting manner. Food is by far a biggest emotion in India with uncountable delicacies and Jaipur is no exception. Heritage and architecture of Jaipur was nurtured by many Kings and those kings and ancient travellers also introduced their delicious food to the locals. And the tour of Jaipur is incomplete without treating yourselves with the best desserts in Jaipur. We have some names of treats and best food joints in Jaipur to help you out. The combination of Jalebi, Kachori& Samosa is the hero of snacks that quickly makes your tongue flavourful. These can be enjoyed at only at popular shacks and not just any cafe of old city. Second on the list is Gajak, a delicious and nutritious sweet made of sesame seeds and jaggery which can be enjoyed at the shop of Narayan Ji ki Gajak. Next on the list of food is Laddu. It's the easiest and softest sweet to prepare. It is made of gram four and sugar and you can try this at 'BhagatkeLaddu'. Other snacks and sweets are Ghevar which is again a traditional delicacy and it's made in a disk shape with Ghee, flour and sugar syrup. Last but not the least is the relishing treat of Lassi (churned yoghurt shake) at a famous shop of 'Lassiwala'. It is scrumptious and fulfilling to your tummy as well.
These sweet and savoury snacks are too inviting to resist from. A brief stop for tea along with snacks with a local person or a guide should not be missed during this tour of Jaipur. Also at the snacks shops in Jaipur, you can see the workers cooking in a huge traditional charcoal stove.
Once you visit India, you also get a chance to start the day a local person does every morning. Early mornings in Indian subcontinent are considered to be connected with spirituality and purity. A regular day of every individual is started with devotional practices towards nature and gods. You are suggested to visit Govind Dev Ji temple dedicated to the Lord Krishna. Here you can attend a worship ceremony and feel an uplifting spiritual experience. Even, we haven't missed this ceremony any day in the last 11 years of doing bike tours of Jaipur early morning.
A good community of devotees is busy preparing for the traditional Aarti (vesper service and devotional hymns). As the main deity's idol is about to be exposed for the devotees and curtains are unfolding, the people start ringing the traditional bells. The complete aura is mesmerizing when hundreds of devotees sing together with lighted lamps before the sacred idol of Lord Krishna.
Jaipur has been a home to many artisans who came from across the world and settled in the tiny lanes. Their art was patronized by the Kings of Jaipur who helped them to flourish and spread the art among other States as well. You are highly advised to visit old settlements of sculpture artists where one can still see the aura of art and heritage even amidst busy streets. Artisans can be seen striving hard to make beautiful idols of gods on stones. The sounds of hammers and tools are a bit loud yet their detailed art presents a fine blend of spirituality and craftsmanship. There are also some shops of spices and sweets. Everything here is a pot-pourri of fascinating stories and photo opportunities for the tourist. Although the shops are shut in the spices market still you get the strong aroma passing the closed shutters.
These are just a few experiences which we live everyday on our Jaipur cycle tour. A new story adds up in the list with every tour and guest. We at Le tour de India wish that every traveller should experience the best of Jaipur. If you have a bike, just hop on it and you are good to go. Else, if you don't have a bike, let us know and we are present to assist you with our bike tours. You can select and join our guided bike tours where you don't have to miss on any of the above mentioned experiences.